Prout Convention 2014 was held at Ananda Gaorii Master Unit in Denmark from July 18 -23. We were graced by beautiful weather and an enthusiastic gathering of more than 150 participants.
We had an excellent program which covered analysis of the economic crisis, Prout solutions, strategies for local economy work and a lot of practical material on topics such as how to set up a Prout political party, non-violent communication, organizing and decision making systems, team-building skills, etc.
One of the most inspiring aspects of the program was the reports from active European Proutists in Portugal, Sweden, Norway, Denmark the U.K., Ireland and Germany. Some highlights included: formation of a Prout Party in Germany, fantastic work at the Master Unit in Portugal, Proutists being elected as leaders of key progressive groups in Norway, Ecovillage Design Education in Denmark, high level contacts in Ireland, and a successful movement for rural representation in Sweden. Children at this year's Convention also had a great time with a dedicated team of young volunteers who provided a fun and educative mixture of activities
including yoga, meditation, story-telling, painting, building an insect house (image to the left), harvesting potatoes, recycling, playing non-violent communication games and last but not least, learning to do some horseback acrobatics on the cute Icelandic ponies who live at the Master Unit. The facilities provided at the Convention this year were also much improved with our new dining room and a spacious kitchen. Many participants opted to camp this year as the weather was so good and we had received a bunch of bright orange tents from the Roskilde Music Festival which we set up overlooking the lake. We had also done some work in the veggie garden this year which supplied us with ample organic potatoes and some tomatoes and salad during the Convention.
The program was very full but during the free time we could relax with trips to the beach which was especially enjoyable due to the beautiful weather. Margii musicians and performers put together an impressive cultural night with lots of original material including some really moving protest songs from Devananda accompanied by Sukhadeva on the guitar. We also enjoyed a unique opportunity to meditate in Dada Rudranath's Pratiika shaped meditation platform overlooking the ripe fields of rye.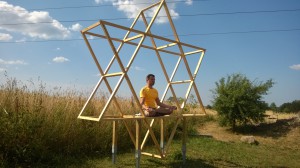 The Prout Convention is a rewarding mix of inspiration, learning, networking and fun. If you were not able to make it this year, we hope you can fit it into your calendar next year.