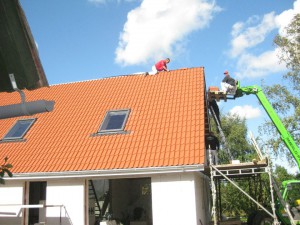 Greetings – Target for 2016
Namaskar! We hope 2016 has started well for you and that you will have a productive and rewarding year. Our target this year at Ananda Gaorii in Denmark is to install a new roof, new insulation and upgrade our heating system so that we can accommodate guests and volunteers and hold retreats, classes and seminars all year round. Your donations can help us achieve this goal.
An Active Project that Deserves Your Support
Speed is picking up at Ananda Gaorii. For the last seven years we have hosted the annual Prout Convention and Activist Training. We have steadily expanded on this to include retreats, sustainable community design courses, permaculture courses, local economy workshops, yoga teacher training, meditation intensives and many other activities.
For more than a year now we have been hosting young volunteers wishing to learn about spirituality, community living and sustainability. Many of them have gone on to become regular meditators and a few of them active Margiis. This year we will host our first EVS volunteers whose costs are subsidized by the European Union.
We work together with other progressive organizations promoting sustainability and local economy in the region and have hosted meetings of the Danish Ecovillage Association and the International Transition Network at Ananda Gaorii. The farm is growing and we have exciting plans for more actitivities.
We also have a good track record with construction. In the past 6 years we have: renewed another section of the roof; added a new kitchen and dining hall and constructed a new toilet and shower block.
A Major Limitation
We are seriously limited, however, by the fact that we can only use our main accommodation facilities during the summer months. This is because they are poorly insulated and freezing cold. The main problem is the need to install a well insulated roof and heat the unheated portions of the building. As you may have seen our present roof is very old and inadequate. It also leaks increasingly, causing damage to the interior. So, in order to get full utilization of the Master Unit and provide activities for Margiis and the public all year round our top most priority is to upgrade the roof and insulation and extend the heating system. When this is done we will be able to register Ananda Gaorii as an approved seminar facility, strengthening our capacity to host a wide range of activities and be more self-reliant.
We Are Half Way There – Help Us Complete the Target
To finance the construction we will use the 6700 Euro income from Prout Convention 2015 plus 40,200 Euros already received from a generous Margii donor. We have consulted with the local builder and are recruiting our own volunteers to reduce labor costs. We will begin construction in March. There is a shortfall of 50,500 Euros and thus we are appealing to Proutists, Margiis and friends to support the development of this project which is so valuable to the work of Ananda Marga and Prout in Europe.
Below is a budget for the project. If you would like to make a donation please contact Vishvashanti, Dada Ambareshvarananda, or Dada Krsnasevananda or transfer directly to Acc. No: 5041-1389328;    IBAN: DK9150410001389328;    BIC/SWIFT: JYBADKKK.       Every little bit helps so please don't be shy.
Budget for Roof, Insulation, Heating and Associated Modifications
Item
Euros
Wood
2400
Insulation
6500
Membrane
1000
Windows
23000
Wiring/Electrician
5000
Roof Tiles
12000
Engineer Consultation
2500
Chief Builder
5000
Labor
20000
Scaffolding
5000
Heating System
10000
Miscellaneous
5000
Total
97400
 Thank you for your kind consideration!
Sincerely,
Vishvashanti (vishvashanti@prout-global.net)
Dada Krsnasevananda (krsnasevananda@prout-global.net)
Dada Ambareshvarananda (ambareshvarananda@prout-global.net)