200 Hour Training Accredited by Yoga Alliance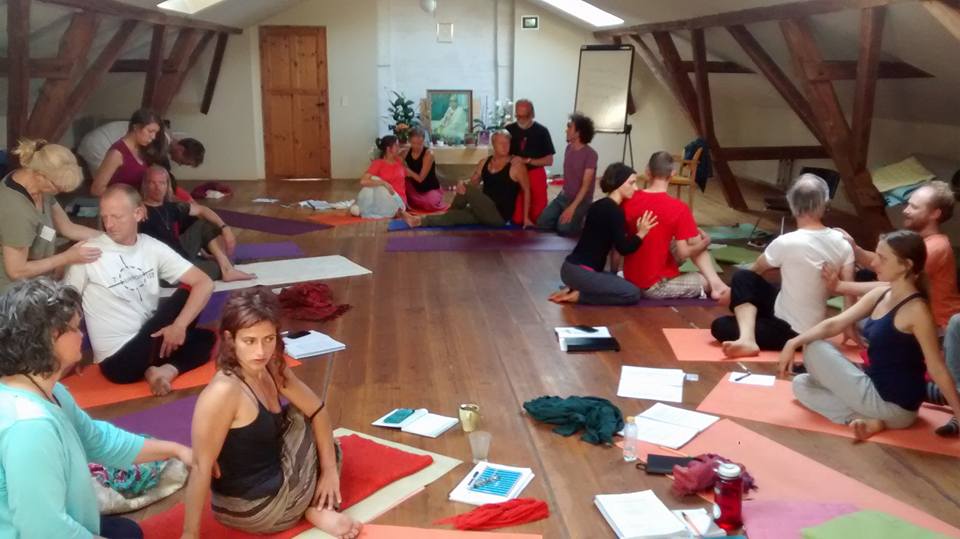 Ananda Marga Yoga Teacher Training is a Yoga Alliance accredited teacher-training program that provides immersion into a lifestyle of inner joy and universal love. Our training program teaches yoga as a transformational tool for spiritual awakening and betterment of the human society. This inspiring and comprehensive yoga training will deepen your personal practice and give you the tools to teach yoga to others.
AMYTT provides all participants with a strong foundation in meditation, asanas, and other spiritual practices. Experienced and professional faculty facilitate a strong and supportive learning environment that integrates asana technique with anatomy, physiology, philosophy, cosmology, subtle anatomy (cakras and kosas), and dynamic teaching methods.
Trainers
Acarya Vishvarupananda,  RYT. Dada has been a monk in the Ananda Marga tradition for over 27 years and has given personal instruction to numerous aspirants during that time. Dada has received additional training with Ananda and Kripalu.  He has been teaching professionally since 2000 including college credit classes at George Washington, Maryland and American Universities.  He has co-organized numerous weekend and five-day retreats for students and has led yoga teacher trainings in different parts of the world.
Acarya Anuvratananda, E-RYT 200. Dada has been practicing yoga and meditation from the Ananda Marga tradition since 2002.  He received training to become a yogic monk in Sweden and India. Currently touring the USA and Mexico, he offers instruction in meditation and yoga at various universities, elementary and secondary education schools and social service institutions. He has co-taught several Yoga Teacher Trainings around the world as well as many weekend retreats, local, national and international events.
Yoga Alliance
This 200 hour yoga teacher program is accredited by Yoga Alliance. Students are requested to maintain a strong code of ethics to ensure the physical, emotional, social and spiritual safety of all.  Signing a Code of Ethics is required by Yoga Alliance.  When all requirements are fulfilled, graduating student receive a certification from the Ananda Marga Yoga Teacher Certification School and may register with Yoga Alliance.
Accommodation
Ananda Gaorii has a combination of dormitories, rooms and grassy fields for camping. Most of the rooms have beds while the dormitories have mattresses on the floor. Participants should bring their own sheets, sleeping bag, etc. Those who need more privacy and peace (and loud snorers) are encouraged to bring their own tent and camp.
Cost:
Full Price: 12,500 Danish Krone
Early Bird Price: 11,000 Danish Krone (for those paying on or before May 1, 2016)
Price for Ananda Marga Acaryas: 4500 Danish Krone
Account Information
Acount name: Ananda Marga DK Kurser/Courses
Bank: Jyske Bank
Account No.: 5018-0001348611
Swift/Bic: JYBADKKK
IBAN: DK2350180001348611
NB! Please include the words "Yoga Teacher Training" in the message line.
Contact Information
Site: Ananda Gaorii, Holbækvej 56A, 4560 Vig, Denmark
Tel. +45 47314731
Mob. +45 91490811
Copenhagen (Ananda Marga Center)
Mob. +45 26453521
Mob. +45 71881273
Email: info@anandamarga.dk
Registration
To register kindly pay the advanced booking fee (750 Dkk) or the full amount and then fill out the registration form below. The full amount needs to be paid no later than June 1, 2015. Cancellations earlier than July 10 will be fully refunded. Cancellations after July 20 will be refunded minus the advanced booking fee.
Registration Form