A Week Long Program Integrating Spirituality, Activism, Creativity and Fun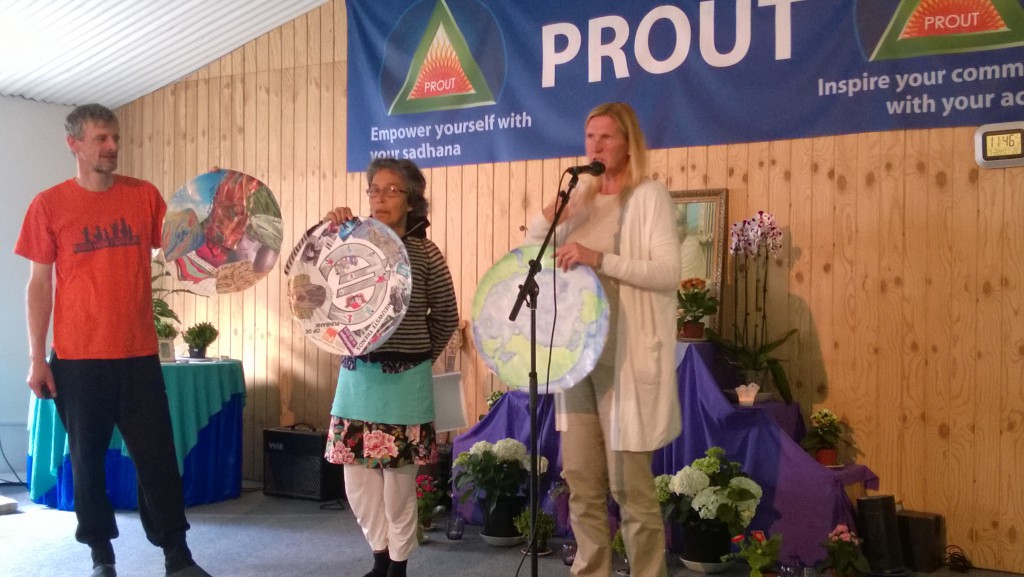 A Universal Outlook
For those new to Prout "Prout" stands for "Progressive Utilization Theory". It is an alternative socio-economic theory based on the worldview that all of creation – animals, plants, humans and even apparently inanimate matter, are part of a universal family on a shared journey towards higher consciousness. As the most aware members of the family we have a responsibility to ensure the security and well-being of all our family members. This is a spiritual worldview with strong social, economic and environmental implications. As such the Prout Convention is a blend of spiritual retreat and inspiration for progressive change.
Spirituality and Creativity
Kiirtan (chanting) and meditation are at the core of the convention. Four sessions of kiirtan and meditation every day (beginning with 3 hours akhanda kiirtan) and two sessions of yoga asana practice create a strong spiritual flow. For those who love chanting, every retreat brings the opportunity to learn new melodies and hear old melodies played in a new way. Spiritual talks from teachers and experienced practitioners bring insight and inspiration and the evening cultural get-togethers offer a warm-hearted opportunity to enjoy the performances of our talented international family.
Taking Action for Equity, Sustainability and Self-Reliance
This year's program focuses on responses to the refugee crisis in Europe and exploration of future scenarios on migration and climate change. These interrelated issues are already impacting our lives and what we are experiencing now may just be a taste of what is to come. As Proutists it is important that we anticipate coming events and promote cooperative and humane responses which take into account the needs and concerns of all those affected by the crisis. Plans for the program include:
Stories from people dealing with refugees first hand e.g. Anukula, managing a refugee center in Norway; Dada Unmantrananda and Didi Ananda Uttama, leading our AMURT/EL projects for refugees in Lebanon and Greece; and Fayez Karimeh, a refugee himself who is setting up an ecovillage for refugees in Sweden.
A look at the history of mass migrations and their positive and negative impacts
A discussion on the rights and responsibilities of refugees and economic migrants. Should migrants be forced to assimilate into the culture of the host country, or should they be allowed to follow their own way of life.
The refugee crisis from a Prout perspective – everything that P.R. Sarkar said on the subject
Future scenarios from Prof. Sohail Inayatullah (Subodh) who consults for governments, universities and organisations around the world on issues like climate change and migration
Group work and panel discussions exploring our responses as Proutists
Resource mapping regarding skills we already have or could acquire to offer practical help in the crisis e.g. trauma counseling
Possibilities for collaboration with AMURT (Ananda Marga Universal Relief Teams)
For those interested in Master Units and living on the land we'll be having hands on workshops on food-growing, yurt construction, water management and other practical topics.
We'll hear what Proutists around Europe and other parts of the world have been doing and experiencing in their local regions.
The program is still taking shape so we will update you with further details as they become available.
A Growing Project
Ananda Gaorii Master Unit (retreat center and organic farm) itself is steadily developing. We are developing our volunteer program, improving our kitchen and dining facilities and growing more food. This year we begin work on our new roof, insulation and heating system.
For the Whole Family
There will be a complete child care program in the children's tent and the enclosed children's area with activities aimed at developing their sense of connectedness with all life and their own inner greatness and beauty. Trips to the nearby beach and forest will be offered along with special programs for teenagers.
 Accommodation
Ananda Gaori has a combination of rooms, dormitories and grassy fields for camping (See our website for more pics). Most of the rooms have double bunk beds while the dormitories have mattresses on the floor. Participants should bring their own sheets, sleeping bag, etc. Those who need more privacy and peace (and loud snorers) are encouraged to bring their own tent and camp (Note: We will set up some of Ananda Gaorii's tents and make a limited number available for participants). Be sure to register early if you want to have a choice of accommodation.
What to Bring
Sleeping bag/blanket, bedsheet, pillow, yoga mat, indoor slippers, notebook, pen, swim suit, towel, toiletries, sun cream, hat, sun glasses, notebook, pen, sports shoes, day pack.
Cost
(Note: Registration fee covers, accommodation, food and program participation)
Standard €210 (1580 DKK)
Students, pensioners, unemployed €150 (1120 DKK)
Children 5—12 €100 (750 DKK); Children 0—5 Free
Portugal, Spain, Iceland, Greece €145 (1100 DKK)
Poland, Estonia, Latvia, Lithuania, Hungary, Ukraine, Belarus, Russia, Romania €125 (950 DKK)
Balkan countries and countries outside Europe: concessions will be available when registering in advance or at registration.
Account Information
Acount name: Ananda Gaorii MU.
Bank: Danske Bank;
Account No.: 0297 4614434090;
Swift/Bic: DABADKKK
IBAN: DK1330004614434090
NB! Please include the words "Prout Convention" in the message line.
Contact Information
Site: Ananda Gaorii, Holbækvej 56, 4560 Vig, Denmark
Tel. +45 47314731
Mob. +45 91490811 (Dada Rudranath)
Copenhagen (Prout Global Office)
Mob. +45 26453521 (Dada Ambareshvarananda)
Mob. +45 71881273 (Dada Krsnasevananda)
Email: proutconvention@prout-global.net
Getting There
If you come by public transport you can catch a train to Holbæk and then a train or bus to Vig (whichever comes first). We can pick you up from Vig. (Total travel time is about an hour and a half).  If you come by car our address is 56 Holbækvej, 4560 Vig.
Visa for Denmark
Those of you coming from outside Europe may require a visa to enter Denmark and some of you may need an invitation letter from the Prout Convention organizers before you can get a visa. If you send an email with your name, birth date, address, telephone number, nationality and passport number to Vishvashanti at obrekke@commediaschool.com he will send you an invitation letter and visa application forms.
Registration
To register you must pay the advanced booking fee (40 Euro/300 Dkk) or the full amount and fill out the registration form. Space is limited (except for camping). Paying the advanced booking fee gives you the opportunity to secure your preferred accommodation and special needs if you have them.
Registration Form